Agarwood, in any form, either in oil, wood, or powder, is beneficial for us. It's often used for the treatment of different kinds of health concerns – such as spasms, digestion problems, anxiety, depression, etc. In a simple way, it would be better to say Agarwood essential oil benefits make it quintessential nature's boon for mankind. 
For a long time, people across the world have been using natural products such as attars and essential oils where these products are encompassed with their own medicinal & aromatic properties, which make them excel in the field of aromatherapy, healthcare, perfumery, incense, and foods. 
In today's scenario, people have shown their inclination towards essential oils and herbal products instead of chemical additive products. These products comprise a wide range of medicinal properties such as anti-arthritic, analgesic, anti-inflammatory, sedative, antispasmodic, aphrodisiac, etc. Altogether these therapeutic grade attributes help in fighting against respiratory, mental disorders, low energy level, irregular blood circulation, etc. 
A few essential oils possess the mesmerizing & pleasant aroma that can revitalize the mind and body to the next level. Versatile Agarwood essential oil uses to keep it on the highest of essential oils and other natural products. Top agarwood essential oil manufacturers in India always strive to deliver the highest quality of natural products to cater to customers' needs.
In contemporary markets, there are hundreds of essential oils such as lavender, chamomile, orange blossom, peppermint, bergamot, etc. Due to their advantages & frequent use by aromatherapists, industries, and people, the natural product market is swiftly increasing.
Agarwood Essential Oil Benefits & Uses
Agarwood has its own significance, and it has been used since ancient times in Ayurveda. Let's have a quick look at the Agarwood essential oil benefits that you must know. Agarwood has another name, Oud, and its oil is known as oud oil. It's considered as one of the precious natural oils which is made up of several species of Agarwood. Mostly it's found in Northern Eastern India, Bhutan, and different parts of southeast Asia.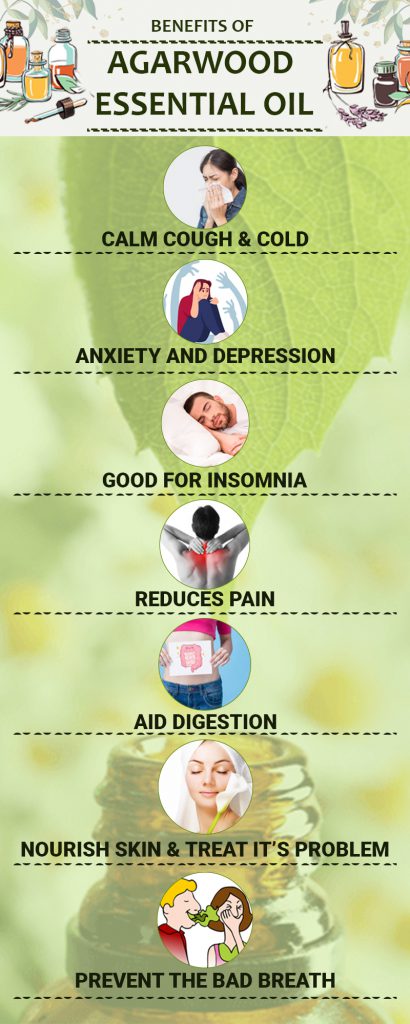 Calm Cough & Cold
Agarwood essential oil has potent anti-inflammatory properties; therefore, it's good for providing relief from cough and cold. It's quite beneficial in reducing tissue inflammation. On applying massage on the chest and throat, we can get instant relief as it assists sensitive tissues in getting back on their normal state. Moreover, agarwood essential oil also possesses antiasthmatic properties, which make it useful for various respiratory ailments.
Anxiety and Depression
Agarwood's soothing and calming properties help to deal with anxiety and depression. Where it produces harmonized effects on body and mind. It's extremely useful in stimulating the brain's limbic system, which facilitates the evolution of positive emotions, and relaxation. In aromatherapy, it's used for anxiety, depression, and stress problems. 
It assists in achieving tranquility of mind. It increases the focus and concentration and eases any sort of tension. Most aromatherapists recommend agarwood essential oil for depression and associated disorders.
Good for Insomnia
Most of the people usually suffer from sleep disorders. When we put a glance at the agarwood essential oil benefits, we find that there are several types of sleep-related problems, including narcolepsy, sleep apnea, etc. Where insomnia is most common among the people. It is a serious sleep problem that creates trouble in sleeping. 
The Agarwood oil is a panacea for insomnia. It helps in regulating the sleep cycle and produces a calming effect, which can help to achieve good sleep. However, there are certainly other benefits of oud essential oil, as this can be beneficial for eliminating the sleeping sickness and excessive sleepiness.
Read More About: Essential Oils for Insomnia
Reduces Pain
Agarwood essential oil perfectly works for Rheumatoid and Arthritis problems. Where it's quite helpful in reducing inflammation and pain due to its analgesic and anti-inflammatory properties. Actually, inflammation and pain usually occur in arthritis and rheumatoid conditions. 
Besides it, Agarwood essential oil's diuretic properties provide great benefits in detoxification and help in removing toxins such as uric acid, fats, salts, etc. by promoting frequent urination. After this, muscles and joints get relief from the swelling and stiffness.
Aid Digestion
Oud essential oil has a carminative property, which is quite beneficial to promote unobstructed digestion. Moreover, it's good for gas and stomach pain. Gently massage of Agarwood essential oil on the abdominal area can provide relief from indigestion. Agarwood essential oil uses and its properties make it a robust herbal product to deal with stomach issues.
Nourish Skin & Treat Its Problems
Agarwood or Oud oil is a wonderful remedy for the skin that can improve skin conditions. It works as a skin tonic and good for the treatment of acne, blemishes, puffiness, redness, etc. Its anti-inflammatory property helps in faster healing of the skin. Therefore good for scars. Its antibacterial property makes it a good skin agent for treating the acne breakout.  
In the case of damaged skin, you can use agarwood essential oil, as this is very much effective against free radicals. Wrinkles, fine lines, and pimples always keep away if you use Agarwood essential oil. Personal care products companies use Agarwood as an ingredient in making cosmetic products
Prevent the Bad Breath
Bad breath can lead to bad impressions and lower down confidence. And it's mainly caused by the growth of the bacteria and other microorganisms. The agarwood essential oil is a stunning solution for bad breath, where it can stop the growth of bacteria and diminish their impact within the mouth cavity. It helps in maintaining oral hygiene and allows fresh breath. 
Miscellaneous Benefits
Apart from the above benefits, the agarwood essential oil has many more advantages that can produce intended results while using for various ailments. Here we are going to explore a few others – 
Being a stimulant, it helps in increasing the physiological function of the body.

Its febrifuge property makes it good against the fever.

It works as a muscle relaxant – and assists in ease of muscle tension.
According to Tibetan medicine culture, Agarwood was mostly used to treat halitosis and regulate the vital organs. It's good for supporting the kidneys. and beneficial in chest tightness. According to Ayurveda, Agarwood works effectively for dysentery, nausea, vomiting, diarrhea, etc.  
Kusharomaexports is the best among the agarwood essential oil manufacturers in India. We provide 100% pure and natural essential oils, attars, absolute oils, and many natural products.