Bones are an essential part of our body that it helps us in several ways, including protection of the body organs, store minerals, and provide structure and support for the body. In the case of bone fractures, there are numerous ways for treatment such as surgery with rods, plates, adding plaster cast, traction, braces, and splints. But even after this, natural essential oils for broken bones have their own importance because of faster healing.
Bones are good for making the skeleton of the body and are made up of calcium phosphate and calcium carbonate. A human body contains 206 bones, from very small one stapes to the largest one called fumer. A perfect combination of collagen protein and calcium makes bones stronger and flexible.
A fracture generally occurs when a high force or impact is applied on a bone. On applying excessive force, the bone gets break. It may further cause a change in the shape of bone, swelling, and pain. Fractures are common.  There can be several causes of bone fracture including traumatic incidents – sports injuries, vehicle accidents, and falls. Other medical conditions such as osteoporosis can lead to the weakening of bones, therefore fracture easily occurs. The fracture may be classified into partial, complete, close, and hairline fractures.
Whenever we see the scope of essential oils in the current market, we find that demand for essential oils increasing at a fast pace, and soon will touch a new mark. Worldwide people have shown their faith and trust in these naturally extracted products, and in recent years, it will generate a business of $ 11.89 billion.
For decades, essential oils are frequently used for the treatment of various health issues and cosmetics. When it comes to essential oils healing powers, bone fracture treatment is not a challenge, and they are extremely beneficial for bones. Cypress, Fir, and castor oil are few effective essential oils that can play a significant role in the treatment of essential oils. These oils possess the best therapeutic grade properties and amazing chemical compositions.
How Do Essential Oils for Bone Healing Works Faster
As we know essential oils contain certain effective chemical compounds which are beneficial in the treatment of various health issues, and in case of a broken bone, they cannot repair the same but can play a vital role in healing faster, and can reduce the pain and discomfort.
Essential oils can increase the blood and lymph flow in the injured area, where this can be petty much helpful to carry the nutrients and throw out the toxic chemicals.
Furthermore, it can help in repairing of tissue around the bone fracture.

In case of swelling, pain, and inflammation, essential oils are quite effective to reduce the same.

It can warm up the affected area, where heating can increase the healing process to the next level.
Meanwhile, essential oils provide good results against bone loss, where monoterpenes borneol, thymol, and camphor are quite important to prevent calcium loss from the bones.
Essential Oils for Bones
Here we will discuss few important essential oils for fractured bones. All these essential oils can make differences. We must note that every essential oil has its own properties and merits to treat certain kinds of health issues, and for a broken bone, they must have pain-relieving, wound healing, and nerve repairing properties. Now let's see a few best essential oils for bone healing.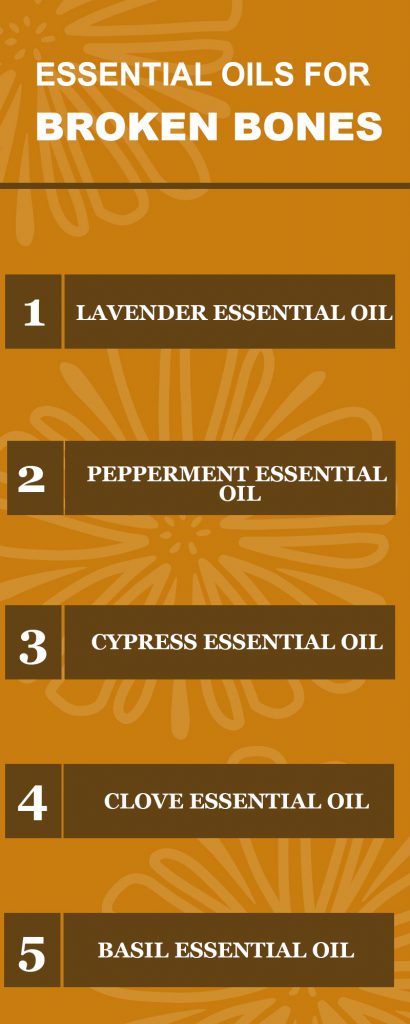 Lavender is also known as one of the most vital essential oils having different sorts of properties such as anti-inflammatory, analgesic, antispasmodic, etc. which makes it perfect essential oil for bone healing.
It can help in increasing the blood circulation in the body, resulting in the transport of nutrition and extraction of toxic elements from the body parts.

It can reduce the stress level from the body and make you cool and relaxed. Where your mind and body will be the state of rest, further another body mechanism will initiate and stimulate the bone healing process.

It can speed up the bone healing process and prevent infections in the body.
In the list of the best essential oils for bone healing, lavender ranks top, which is also good for the treatment of nausea, migraine, depression, insomnia and many more.
After lavender essential oil, in the list of essential oils for fractured bones peppermint essential is also worthy. Where the presence of menthol plays a significant role in increasing the blood flow to the next level. In the treatment of the bone problems, it was found that it can do wonder where it possesses the anti-inflammatory, antispasmodic, and analgesic property. It helps in reducing pain, inflammation, and restlessness. 
Cypress essential oil helps in healing, circulation and possesses the anti-inflammatory and antispasmodic properties that will improve cellular health and recovery. In the case of fractured bones, cypress essential oil will be the finest choice for users. In addition, cypress essential oil is considered the best essential oil for stress, anxiety, and depression. Where it can provide the relaxation after the proper usage. The working of cypress essential oil can be understood as it enhances the oxygen supply and nutrients to the injured area. We can say cypress falls under the category of best essential oils for bone healing.
Among the list of natural essential oils, clove has its own place where it can provide you with excellent property of pain-killer, antispasmodic, and analgesic property. It can fulfil the nutrient deficiencies in by promoting the nutrient carrying mechanism. However, it's pretty much helpful in degenerative conditions which cause of osteoporosis. Moreover, it can speed up the wound healing process so as the fractured bones could be recover as soon as possible.
Basil essential oil is very beneficial in nerve repairing and improving the blood circulation in the body as it has the potential to heal the bone faster and good for fractured bones. Basil possesses the anti-inflammatory, analgesic, antidepressant, and nerve relaxation properties. However, it's perfect for preventing cartilage damage and increasing the bone repairing process by stimulating the nervous system.
How to Use Essential Oils for Broken Bones
As we have seen different types of natural essential oils for broken bones. The internal chemical composition of these products makes them effective to deal with fractured & broken bones. For a long time, natural essential oils have been used to get relief from fractures, wounds, and swellings. Their therapeutic properties make them effective for faster wound healing and reduce swelling. 
Natural essential oils can be used in a number of ways but for bone fracture, their topical application may drive excellent results. Before applying it topically, first, you should dilute the natural essential oil with an appropriate carrier oil.
Note:- Before applying the same over the skin you should take advice / or consult with your doctor. Because a few essential oils may not be suitable for you. Avoid using the near ears, mouth or eyes.  If you see any irritation then meet with your doctor.
Natural Essential Oils for Fractured Bones
In such a high competition market, it's quite tedious to find out the pure and high-quality natural products. We at KushAromaexports offers you traditionally made essential oils for broken bones. We're an award-winning manufacturer and wholesaler having a legacy of 100 years. We supply to different parts of the world, including the USA, South Africa, Dubai, the Middle East, and Others. Book your order Now! 
Note: – All the details provided above are only for information purposes, it's recommended that before using any of the products you should take prior advice of doctors or medical practitioners.