Essential oils are popular because they smell great and are thought to promote relaxation, but devotees also use them to heal injuries, boost vitality, and sharpen memory. However, a treatment that you've probably never heard of: using essential oils to help reduce gas and bloating.
Individuals apply essential oils to their stomachs to help them depuff and absorb the substance. Bloating is most commonly caused by dehydration and eating too much salty food. However, there are other factors to consider. If you're currently trying to lose your bloated stomach, invest in some aromatherapy.
Disclaimer: Trust essential oils obtained from natural essential oils suppliers because if pure essential oils are the holy grail they impure essential oils are venom.
Here is a list of essential oils that can help with bloating right away.
Top 5 Digestion and Bloating Essential Oils
To treat a bloated stomach, it is best to use digestive aids, enzymes, and probiotics. However, this approach does not yield immediate results. There are 5 essential oils that can be used topically to help with bloating and lessen the impact of bloating. The below-mentioned essentials are very easily available at various Essential Oil Manufacturers in Kannauj, also known as the perfume city of India.
1. Bloating Relief with Peppermint essential oil
When combined with a carrier oil, Peppermint Essential Oil can help with bloating symptoms as well as most types of pain. Cramping discomfort is reduced because peppermint relaxes the stomach muscles.
Furthermore, peppermint essential oil aids in the removal of gas from the intestines. This aromatherapy essential oil contains antispasmodic properties. As a result, it can relax your digestive muscles and calm your digestive system.
2. Bloating Relief with Clove Essential Oil
Clove essential oil can help with stomach bloating, especially if it is caused by a bacterial infection. This essential oil's antibacterial properties are to blame. This is critical if you suspect that an excess of harmful germs is causing your bloating.
Clove essential oil has the ability to improve health and protect the digestive system. Cardamom is commonly thought to be a spicy food that causes indigestion. However, as an essential oil, it is extremely nutritious and aids in digestion while decreasing fluid retention.
3. Essential Oil of Ginger for Bloating
You've probably heard that ginger tea can help with stomach issues and indigestion. The ginger essential oil may be useful in calming an upset stomach due to its powerful anti-inflammatory properties.
Other studies have discovered that ginger essential oil helps speed up gastric emptying, or the rate at which food exits your stomach, which is beneficial if you are bloated as a result of something you ate.
4. Fennel Seed Oil to Relieve Bloating
Fennel is a tasty vegetable, but its seeds contain concentrated qualities that, when extracted as an essential oil, can help with digestion. Fennel is a powerful weapon in the fight against gas produced by harmful bacteria.
Because it has been shown to have antifungal and antibacterial properties that protect against a wide range of diseases, studies have shown that fennel seed oil has the potential to aid in the prevention and treatment of colic and chronic colitis.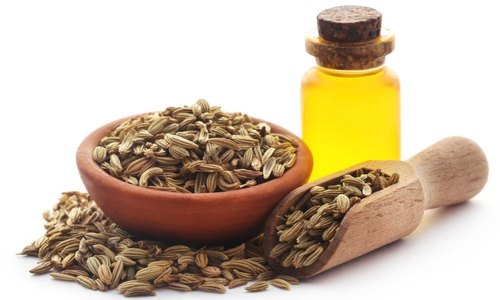 5. Bloating Relief with Lemongrass Essential Oil
Fragrant lemongrass essential oil is used in traditional medicine all over the world, particularly in Brazil, to treat a variety of gastrointestinal issues.
According to recent research, lemongrass acts as a gastroprotective, protecting the intestines from conditions such as ulcers and inflammation. Lemongrass essential oil also has antibacterial properties that can help with bloating caused by bacterial overgrowth.
Bloating Essential Oil Blend Recipe
The following essential oil blend will help reduce bloating and "get things going." When you have intestinal discomfort and bloating, massage your stomach gently with this blend. This blend will also help relieve bloating caused by your menstrual cycle.
Ingredients:
1 Tablespoon Golden Jojoba Oil
3 drops of fennel seed oil
1 drop of lemongrass essential oil
1 drop of ginger essential oil
Directions:
Step 1: To combine, place all of the oils in a small glass container and vigorously shake.
Step 2: Mix all of the essential oils together in the bottle.
Step 3: Your essential oil bloating blend is now ready to use.
Step 4: Before applying them to your skin, test a small area to ensure that they will not irritate it.
How Can Essential Oils Help with Bloating and Gas?
Massage the mixture into your stomach in a clockwise circular motion.
Continue rubbing your abdomen with the mixture for three to five minutes.
While massaging, take deep breaths and breathe easily.
To treat bloating-related issues, repeat this procedure twice daily.
Conclusion
Bloating is one of the conditions that you can easily treat at home with essential oils. Do you have no idea where to get the best essential oils? Not to worry! Veda Oils has your back. We sell the most genuine and 100 percent organic essential oils on the market. Try it out right now! We wish you a speedy recovery!