All parents despise diaper changes because they are a necessary evil, but almost no baby is exempt. Diaper rash is a common and almost unavoidable skin condition that manifests as red, irritated, or inflamed skin around a baby's diaper. Diaper rash is caused by dermatitis or skin inflammation.
As there are different degrees of diaper rash, a variety of factors can contribute to diaper rash, and a variety of ways to treat diaper rash, including the use of essential oils, are the best and most natural remedy for this vexing issue. Continue reading to learn more about diaper rash and the best essential oils for treating it.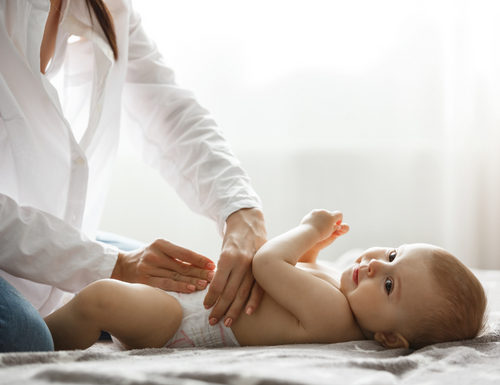 5 Essential Oils for Diaper Rash
Although diaper rashes are common, this does not mean they are not dangerous. You should not disregard them because essential oils for a baby's skin have numerous beneficial properties. Let's treat diaper rashes in the comfort of your own home with essential oils.
1. Tea Tree Essential Oil
Tea Tree Essential Oil, also known as melaleuca, is one of the most widely used essential oils in the world and is well known for its powerful disinfectant properties. This essential oil should be owned by everyone.
It has antimicrobial, antiviral, antifungal, and antibacterial properties, as well as being an effective antiseptic. Tea tree essential oil is more effective than other essential oils for diaper rashes caused by yeast infections.
2. Lavender Essential Oil
Lavender essential oil, which is calming and relaxing, works wonders on the red, itchy skin around the rash. It is a staple in natural first aid kits because it boosts immunity and treats diaper rash effectively.
It promotes faster healing and relief by assisting with skin disinfection, reducing discomfort, and improving blood circulation. Antibacterial, antifungal, antiseptic, and antimicrobial properties are also found in lavender essential oil.
Read more for How to make Lavender Mint Candles at Home?
3. Frankincense Essential Oil
This is Crowd's favourite baby essential oil, and I use it to make everything from baby hair oil to baby massage oil to, of course, baby diaper rash ointment. It also contains powerful antioxidants, which aid in the healing process.
All skin conditions, including diaper rashes, respond exceptionally well to frankincense essential oil, which is safe for infants to use. It helps reduce swelling and pain in the affected area due to its amazing anti-inflammatory properties.
4. Lemon Essential Oil
This essential oil has antibacterial, antiseptic, bactericidal, tonic, astringent, and exfoliating properties. Lemon essential oil contains antioxidants that can help repair and protect the skin.
Lemon Essential Oil has antibacterial, antifungal, and disinfectant properties. When combined with a cream, ointment, or salve, it can help heal diaper rash. The use of this essential oil on a regular basis will improve the health of a baby's skin.
5. Chamomile essential oil
You're about to discover how chamomile essential oil can help treat diaper rash as well as its well-known ability to induce sleep and soothe upset stomachs.
It has anti-inflammatory properties and aids in the treatment of skin conditions common in infants, such as heat rashes, eczema, hives, cradle cap, and others. Consider including chamomile essential oil in your arsenal of all-natural infant medicines.
Ingredients:
4 tablespoons virgin coconut oil
5 drops of Chamomile Essential Oil
5 drops of lavender essential oil
4 Tablespoons Bentonite Clay
4 Tablespoons Zinc Oxide
1/2 cup shea butter
Directions:
Step 1: Combine shea butter and coconut oil in a double boiler. Melt in the heat.
Step 2: Stir in the zinc oxide.
Step 3: Stir in the bentonite clay. Add the essential oil and mix well.
Step 4: Transfer to a Mason jar with a lid.
Step 5: It will be good for a year.
While a carrier oil can be used in place of dilution in this recipe, it is still critical to dilute essential oils for diaper rash before applying them directly to the baby's skin because they carry a significant risk of life-threatening allergic reaction. After diluting it and performing the patch test, you can safely rub it on the infant's skin.
How Do You Use Essential Oils to Treat Diaper Rash?
Now that you know which essential oils are effective for treating diaper rash, it is critical to understand how to use them correctly.
You can make a natural and secure baby powder without talc by combining maize flour or arrowroot starch with one or more of the essential oils listed above, which you can then apply to the diaper area to help relieve diaper rash.
To make a cream that is safe to use and does not contain any harmful ingredients, combine cocoa butter or coconut oil with the essential oils listed above. Apply the mixture to the affected area liberally.
Finally, you can make a spray with coconut oil, aloe vera gel, and any of the essential oils mentioned above to help soothe red, irritated skin caused by diaper rash. After putting the mixture into a spray bottle, spray it after each diaper change.
Even the most severe diaper rash for your child can be treated safely and effectively with natural alternatives.
Before purchasing commercial diaper rash treatments, consider the benefits of using essential oils to naturally calm and protect the skin.